MASTER CLASS
Leelanee Sterrett will hold a horn master class on Saturday, June 20, 2020 from 1:00-3:00 PM at Hillman Hall on the campus of Westminster Choir College, 101 Walnut Lane, Princeton, New Jersey. Up to five horn players will have the opportunity to perform a prepared solo. Students can apply to perform by submitting the Student Application Form.  The application deadline is April 20, 2020.
Master class overview
Prepared solos by up to five pre-selected masterclass participants with commentary and coaching for improved performance by Leelanee Sterrett.  A piano is available for students who wish to bring their own accompanist; an accompaniment will not be provided for you.
Insights into a career as a professional hornist by Leelanee Sterrett with Q & A.
All audience members are encouraged to bring their horns to play as part of a horn choir finale of the master class. No form submission or audition is required to participate in the horn choir finale.  All master class tickets purchasers will receive PDF parts by email by June 1, 2020. Players will be divided amongst the various parts on the day of the master class.
TICKETS
Available online at http://www.psbrass.com/tickets
Concert and Master Class bundle – Adults $30/Seniors and Kids 16 and under $25
Masterclass Only – $20/person. This fee applies to all attendees and participants.
Concert only – Adults $15/Seniors and Kids 16 and under $10
Any remaining tickets will be sold at the door 30 minutes prior to each event at an extra cost.
ABOUT LEELANEE STERRETT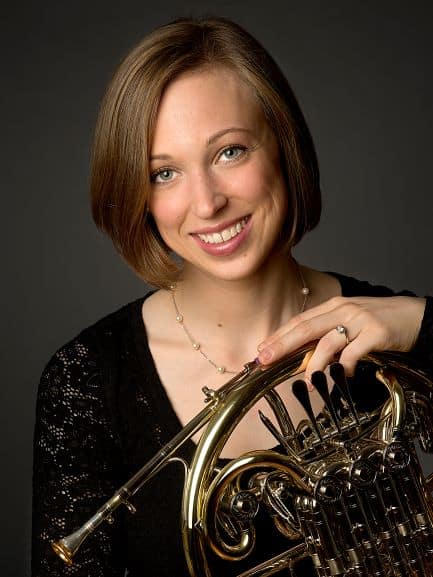 Leelanee Sterrett joined the New York Philharmonic in June 2013; she currently serves as Acting Associate Principal Horn. She was previously a member of the New Haven Symphony Orchestra, and a regular substitute with the New York Philharmonic. Ms. Sterrett is also an alumna of The Academy, Carnegie Hall's collective of young professionals and music advocates, and a former member of Ensemble ACJW.
A northern-Michigan native, Ms. Sterrett grew up in a musically enthusiastic family and attended Interlochen Arts Academy. She received her bachelor's degree from the University of Wisconsin–Madison and a master's degree from the Yale School of Music. Her primary teachers include William Purvis, Douglas Hill, and Julie Schleif. Ms. Sterrett has spent summers at the Tanglewood Music Center, the Pacific and Sarasota music festivals, the National Orchestral Institute, and the Banff Centre for the Arts. She is a past prizewinner in the International Horn Competition of America and the Yamaha Young Performing Artists Program.
In recent seasons, Ms. Sterrett has made solo appearances at Carnegie Hall, with the New Haven Symphony Orchestra, and at the 2015 International Horn Symposium with her Philharmonic colleagues. She currently serves on the horn faculties of Rutgers University and New York University.